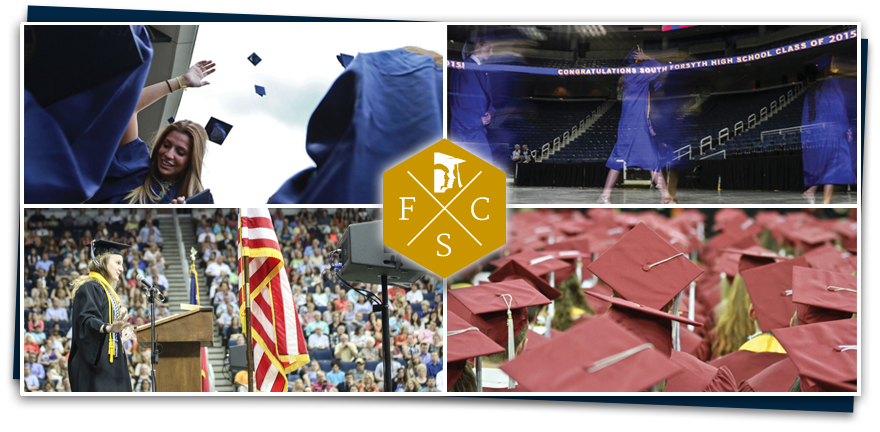 General Information
Forsyth County Schools is now offering a convenient and secure website to request transcripts and student records online. Per District policy and the Family Educational Rights and Privacy Act (FERPA) student records are only available to those who have authorization from the student or parent, guardian or responsible person if the student is under 18 years of age. If the student is 18 years of age or older, school records will not be released to a parent, guardian, or responsible person without the student's written consent.
Important Information:
All requests for student records must be submitted online.




Phone, mail, or fax requests will no longer be accepted.

You will receive emails from scribOnline@scribsoft.com to notify you of the status of your order. It is important you read those emails carefully as additional information may be required to process your request.

For those requesting to pick up records, an official, unexpired photo ID is required such as a driver license, passport or military ID.

Please allow 10 business days to process student records orders.
Please note that this website is optimized for IE 9.0 and higher, Safari, Chrome and Firefox.
All requests will be checked for accuracy. Any inaccurate information may result in your record not being processed. All communication with regard to your order, payment, our progress, and the records delivery will be sent via email.
The Following May Be Requested by Alumni: must meet ALL requirements
| | |
| --- | --- |
| High School Transcript | $5 |
| House Bill 91 High School Diploma | FREE |
| Complete Student Record (all documents on file) | $8 |
| Deferred Action/Dream Act Request | $8 |
| Birth Certificate (maintained as a courtesy one year after graduation/withdrawal) | FREE |
| Immunizations (maintained as a courtesy one year after graduation/withdrawal) | FREE |
---
The Following May Be Requested by Corporations / Universities / Attorneys:
| | |
| --- | --- |
| High School Transcript | $10 |
| Education Verification | $10 |
---
The Following May NOT Be Requested:
---
For More Information, Contact:
Lambert High School
805 Nichols Rd
Suwanee, GA 30024

Danielle Hosier, Registrar (Lambert High School Only)
678-965-5050, ext. 411056
dhosier@forsyth.K12.ga.us
____________________________________________________________________________________________________________

Forsyth County Schools
Inactive Student Records Department
136 Almon C. Hill Drive
Cumming, GA 30040

Chevi Green, Student Information Systems Assistant (FCS Inactive Students Only)
678-947-0863, ext. 312252
cbgreen@forsyth.K12.ga.us

Cindy Little, Parent Liasion (FCS Inactive Students Only)
678-947-0863, ext. 312253
clittle@forsyth.K12.ga.us
____________________________________________________________________________________________
For Technical Support, Contact:
Scribbles Software
Email: help@scribsoft.com
Phone: 855-465-1458
---
Business Hours:Almon C. Hill Educational CenterInactive Records CenterMonday - Friday7:30am-12:00pm and 1:30pm-4:30pm (CLOSED 12:00pm-1:30pm daily)